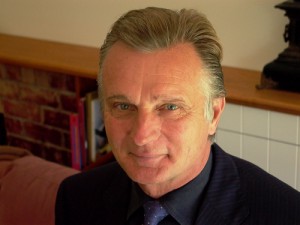 Peace
Around the world millions of people are right now imagining the possibility of peace.  In an Age of Violence in which humans are at war with one-another and even the earth itself the dangers of relentless conflict clearly threaten all life. Our role as humans, in fact this is the very meaning of what it is to be human, is to be responsible custodians of the earth until that day billions of years into the future when the earth is engulfed by the Sun.
This notion of peace, of Custodianship shared by the human family, is an age old Aboriginal concept that has been handed to us by the Children of the Sunrise. We are on Aboriginal land here, the land of the Eora nation, and the Ancestors would smile to see us standing here in the rain and opening our minds to peace and balance in the world. Aboriginal people understand that life is out of kilter.
In over fifty years of world wandering I have seen war in thirty countries. We have just passed through the most violent century in all of human history with over 180 million people killed in conflict, most of them civilians. War is a terror that you can never imagine, pain and grief that I have never seen fully captured on film or even in words. It was for me watching a mother hold her dead child, a father trembling over the bodies of his sons, stakes driven into the bodies of young girls, soldiers shaking like a leaf, in shock over the carnage, other men, trained men, reduced to the most barbaric savagery. War is so overwhelming because it is so totally irrational.
At such an hour as this I can only say calmly once more, echoing the belief of all civilised men and women, that war represents a terrible human failure to solve our disputes like intelligent sentient custodians. For too long most us in the developed world have lived in a Matrix, a matrix of self-interest, isolated from the reality that much of the world is in a very dangerous state. We are unable or unwilling to empathise with people who are different, who live in a vastly different state of modernity where life is extremely violent and survival is sometimes a daily issue. We feel powerless to change the fact that in the undeveloped world there is so much despair and rising anger towards those who have power and prosperity.
To prepare for the dangers ahead we desperately need to understand the Big Picture. We need an overview to understand the pattern, the inter-connecting factors that are making life so dangerous. We must stop seeing war as the solution and understand that it really is a huge part of the problem.
In the fog of war it is harder than ever to separate truth from dangerous propaganda. That great American playwright, Arthur Miller once told an audience in Washington's Kennedy Centre that the true measure of modern political power was a leader's willingness to kill and his willingness to lie to his own people in the national interest. The ancient art of political lying, the practiced dissemination of Big Lies, has great relevance to us at this hour. We should examine the words of our leaders carefully and remind them that in a democracy we demand to be told the truth, not dismissed with stonewalling that wars have to be fought for decades at such tremendous cost without any real progress to alleviate the underlying causes of conflict.
The greatest threat to our children's future, in my view, will be the environmental ruin that already is fuelling much of the conflict in these zones of distress. This is the Big Picture. With over six billion people in the world today, one quarter of us live in dismal poverty. There is a growing water crisis and already over half a billion are subject to chronic water shortages. By 2030 it is expected that the world population will have grown to at least eight billion, maybe more and we may then exceed the available supply of fresh water. Desalination can see us through in the developed world but there is likely to be a dangerous desperation among those who don't have these resources. Conflict over the most basic life sustaining resources threatens to dominate our children's lifetime.
Drive south from the Horn of Africa down through the Sahara and you follow great rolling waves of desertification. In the Sahal this may be partly cyclical due to natural changes in the weather. But the impact of man and deforestation is dramatic. In Senegal I saw whole villages buried by the sand dunes, sometimes three levels of houses and even mosques down beneath my feet. In the Eritrean war against Ethiopia, a grinding battle in the trenches as both sides clawed their way across rocky ground, I was introduced to the connection between war, famine and environmental ruin. I was driving back from the front lines, then near Nacfa, when I stopped our four-wheel drive to give some food to a terrified huddle of refugee women and children, sheltering under the roots of a tree. This strikingly beautiful woman waved me away and I brought back our driver to translate for me. The woman lifted a veil by her side and there was the tiny day old baby that had died because she did not have the milk in her breast to feed her child.  That woman's face was the saddest I have seen. It too is one of my enduring members of war.
Since the end of World War Two humans have devoured more raw materials than all our ancestors combined. Many species, apart from humans, are being liquidated at an astonishing pace. By the end of our century one third of all living species may be gone. Watch the birds now on the wing because of 10,000 species, 7000 are in drastic decline. Take a long walk through the bush and drink deep on its beauty because up to 50,000 of the world's 250,000 kinds of plants are expected to disappear over the next few decades. After seeing so much of the world I agree with Richard Leakey, Tim Flannery and others that the evidence is overwhelming – the Earth is going through the Sixth Period of Mass Extinction. We human beings are driving this destruction.
Now I understand that perhaps for the first time in the history of life on earth, a single species, has threatened the very balance of the interconnected systems on which all life depends. We are at war with one another and with the Earth itself. As bad as it is now, it can get much worse. Our generation must act with a more comprehensive strategy to halt this violence and destruction or future generations may not exist. We simply cannot fully comprehend the full consequences of failure.
There are many things we can do to move the world to peace.
1.   A Religious Summit. As religion continues to be the most
profound cultural difference dividing humanity and is so
frequently exploited as the rhetoric for conflict, the world's
religious leaders should meet urgently this year, agree to drop
their dogma of exclusivity, and stress all the other values shared
by all peaceful philosophies. As simple as this sounds the real
religious supremos have not yet done it. This could help ease
the clash of Islam with Christianity.
2     A Political  Summit. Although there are one billion Muslims in the world today they have no regular voice in the United Nations Security Council. If Islam has been incapable of engaging the West, we must engage Islam.  India too, with almost one billion Hindus, must now have an important place at the political table. So far we have not managed to create a viable forum for fair discussion.
3     A Population Plan. The world's richest nations have reneged on most of their promises at the UN Conference on Population in 1994. For about one cent a day or the cost of a couple of beers a year those of us in the developed world could fund the birth control plan we promised the undeveloped nations. Without it, we are in far worse trouble.
4     Environmental Action. We must urgently address the water crisis around the world before the last good opportunity dries up. Global warming moves us deeper into a chaotic future unless we act as a human family. We have to recognise that what we do now affects everyone and everything else.
5     A Real Health Plan.   If the developed world were to invest seriously in the health of struggling nations to combat preventable diseases like malaria and cholera, there would be a great reduction in infant mortality and dangerous levels of poverty. Are we going to watch passively as HIV/AIDS engulfs more than forty million people because the developed world again treats this illness as someone else's problem? Africa alone by the end of this decade will have 40 million orphans. What hope do we have of averting more conflict, more boy soldiers,  unless we behave responsibly towards these children? Medicine should be subsidised for the poorest nations, because as another visionary Stephen Hawking has warned, viruses threaten the survival of humanity. Each global plague is humanity's problem.
6     A Refuge for Refugees.  More than 23 million refugees adrift around the world may soon be joined by more fleeing the next war zone and these people must be absorbed in a human and tolerant way, with the burden fairly shared by all wealthy nations. The poorer countries now are supporting most of the refugees.  We are all boat people in Australia. There will be many more on the way.  It is impossible to turn this tide. If we act with hardened hearts and blinkered eyes we will not increase our chances of survival but guarantee an unstable and dangerous world for lifetimes to come.
7     No More Fear. It is time to stop being afraid of people we do not understand and to really believe that there is more to unite us than divide us. More then ever before we need men like Nelson Mandela,and Anwar Sadat who found their greatness in history by turning away from war and we need women like Mary Robinson who courageously argue that development can pave the way for  peace. We need more Gandhis, more Thoreaus, more Martin Luther Kings. We  must all work for this and recognise that even out of sheer self-interest, the survival of our species, it is time to consider others as well as ourselves. Isn't this the essence of being human?

Jeff McMullen Sydney October 3rd 2009.